Welcome to Work N'Play Rentals Inc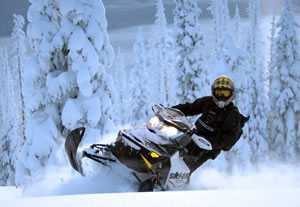 Visit us in Temiskaming Shores Ontario, Canada, the "Hub of Northern Ontario", in some of the greatest snowmobiling territory you'll ever find! We boast a superbly maintained trail system, through spectacular Ontario wilderness. For an unforgettable winter vacation experience, find out more here.
We offer full-feature snowmobile rental packages on current models, at competitive prices. We'll make sure you have everything you need.
Don't miss out! To make your reservations, or for more information, please contact us.
Our snowmobile-friendly town is centrally located in the heart of snowmobile country. With average annual snowfall exceeding 100 inches, you can be certain there will be plenty of territory to cover. Our riding season lasts from December to April – "We're still riding when your tulips are blooming!" The tireless efforts of many area Snowmobile Clubs and Trail Associations ensure excellent riding conditions on wide groomed trails, linking all Northern Ontario communities.